JDSOFT IFACTORY
Manage Your Factory More Reasonably to Get High Utilization
Manage Your Factory More Reasonably to Get High Utilization
In production, there are many factors involved, such as personnel in different position, machine tools, material and program. Jingdiao JDSoft IFactory can help you use and manage these factors in a reasonable way and get a high utilization of machine tools. Through monitoring your factory and analyzing collected data in one week, one month or even one year, you can figure out the using status of machining resources and arrange them more effectively at an overall view. Whatever the size of your factory, it's a necessary management tool for you.
Accurate Utilization
Rate of Machine Tools
Time report function can count usage rate, running rate and utilization rate of machine tools in shift, day, week, month and year to help you evaluate if the configuration of resources is reasonable and find out which part can be improved in order to reduce downtime and save costs.
Quick Access to Production
Capacity of Workshop
Order management is what you can rely on to control the production progress of orders and change or develop a new production plan. When machining time of a product is different on different machine tools, number of processed products is different from one shift to another, it can help you troubleshoot problems to improve production capacity.

Order Management

Task Monitoring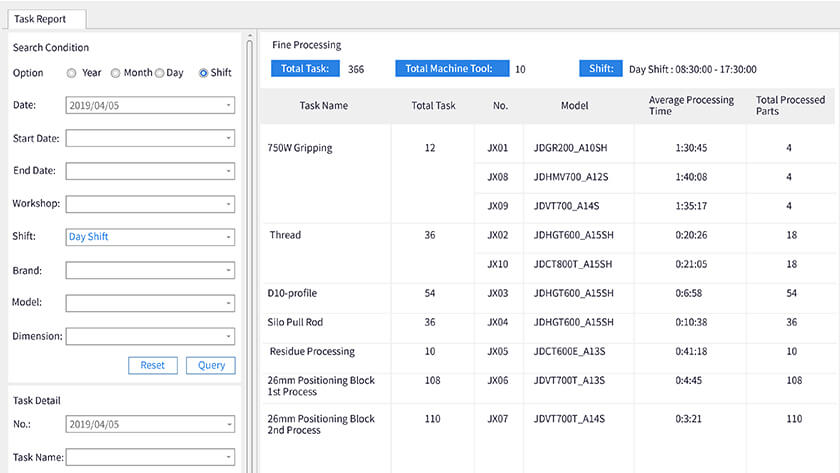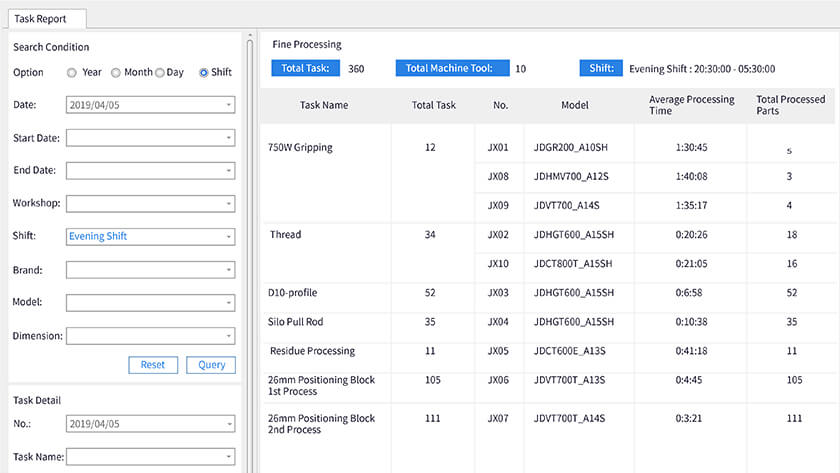 Task Report-compare Between Different Shifts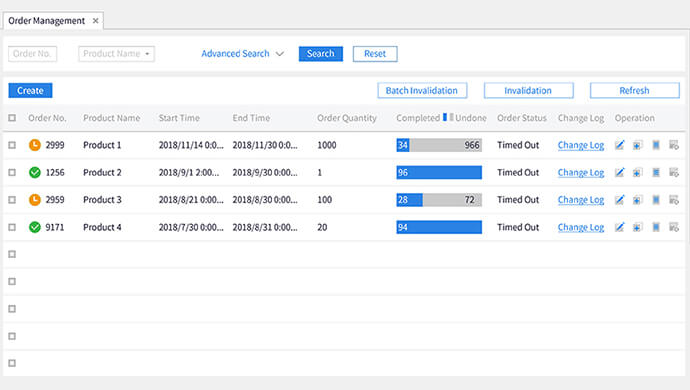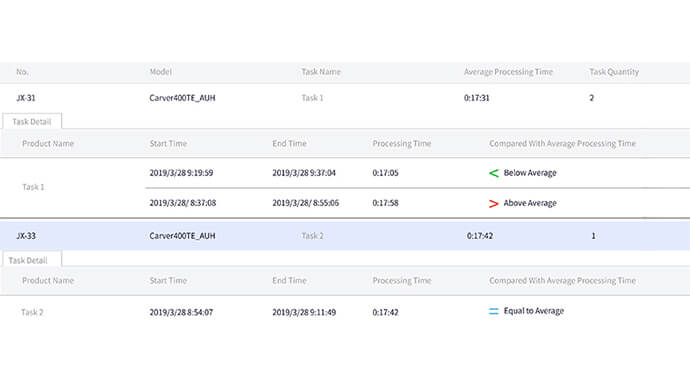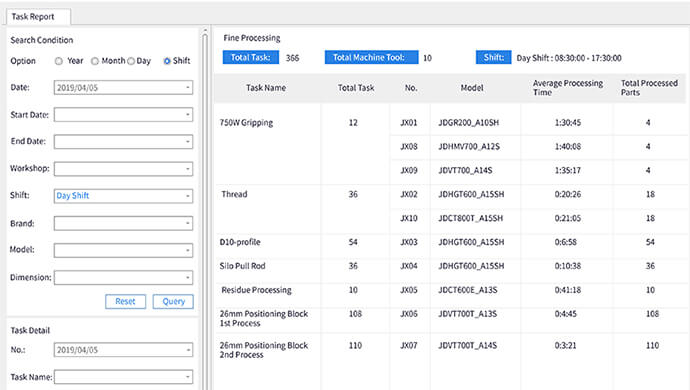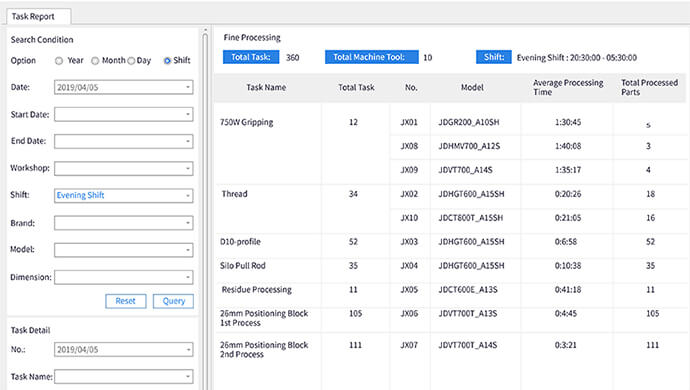 Task Report-compare Between Different Shifts
Task Report-compare Between Different Shifts
Arrange Operators in a Proper Way
If you are in charge of arranging operators in workshop, you are probably facing dilemma of not knowing how to arrange them properly because of lacking reference data. But with machine status chart provide by JDSoft IFactory, you can get to know the most proper way to arrange them by comparing operating condition of different machines in the last 24 hours.
Management and Accumulation of Process Files
By uploading process files to JDSoft IFactory, it will be much easier and safer to manage them. Meanwhile, a process library is created so that all the technicians in your company can take advantage of past cases. They can also deliver the same file to different machine tools and start massive production with just one click.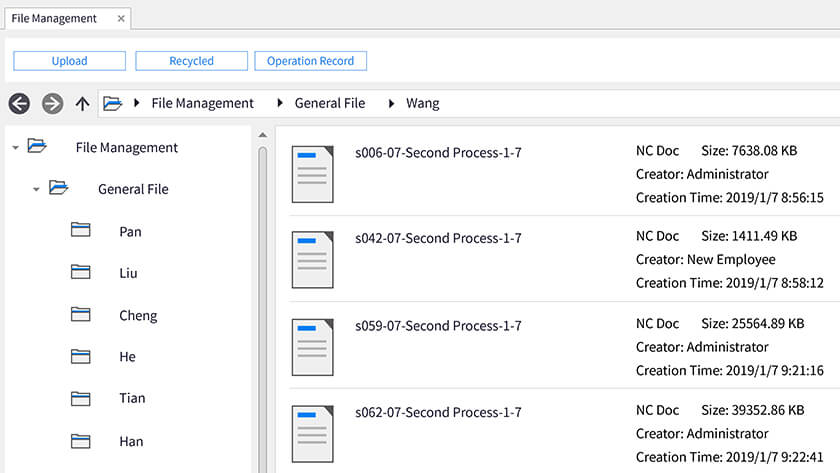 File Management
Machine File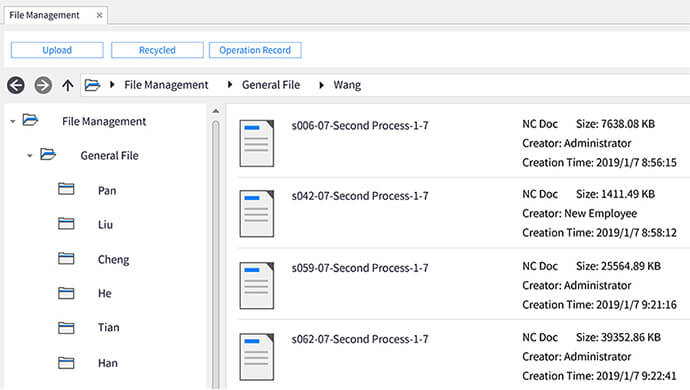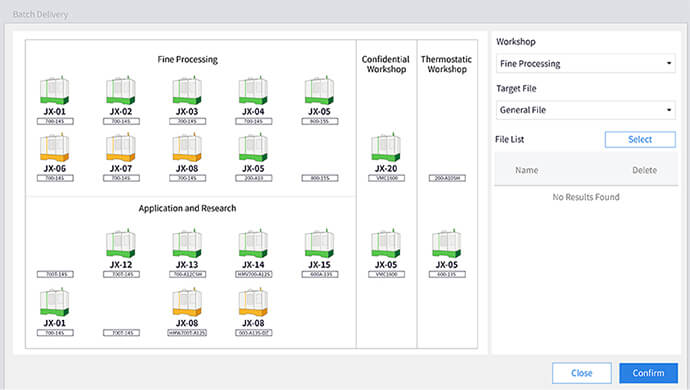 Quick Response to Alarm Information
Different alarm information is stored in JDSoft IFactory, when machine tools alarm, corresponding solution will be sent automatically to the monitor. Machine operators can fix the problems very quickly instead of waiting for maintenance staff. If the problem is too serious, you can analyze the reason depending on trigger frequency to find the solution and input them into JDSoft IFactory. Thus, alarm information will be part of company's knowledge library.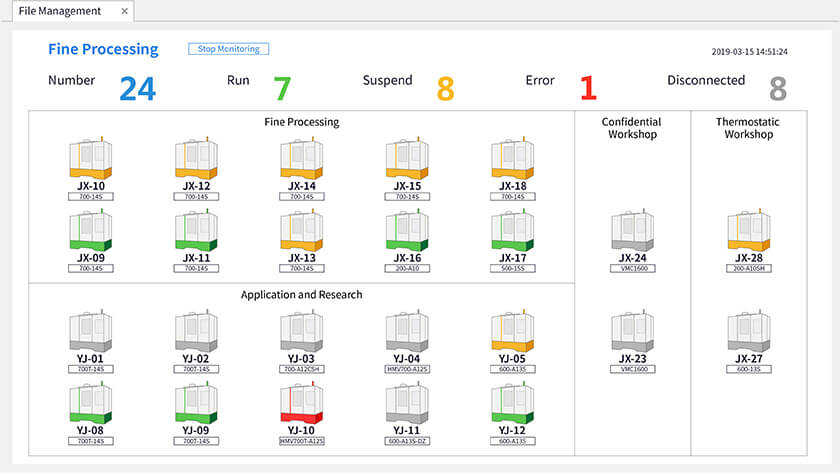 Machine Tool Monitor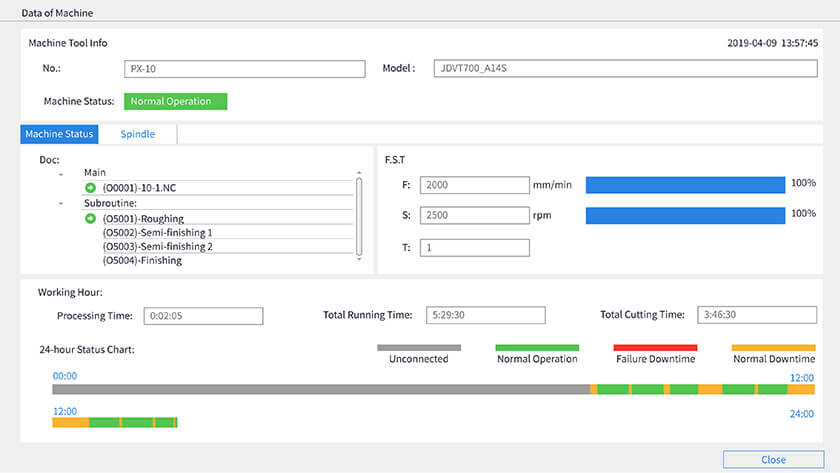 Data of Machine